I was offered a weather station for X-mas : WS-7014. You can buy it from "Nature et Decouvertes". It is a special edition of a "La Crosse Technology" weather Station.
The station comes with a wireless sensor for outdoor temperature. It is powered by two AA 1.5V batteries, reference : TX29-IT.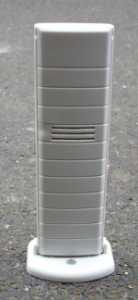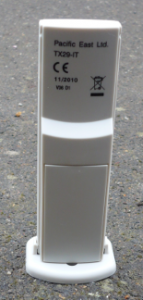 The sensor and the station feature the "Instant Transmission Plus" technology from "La Crosse Technology" in the 868MHz band. This protocol has the following specifications :
measurement every 4s
temperature range from -39.9 °C to 59.9 °C
The IT protocol is very simple and efficient at saving power, the TX29 sensors run more than a year on the same batteries. Those sensors are thus perfect for a home automation project.
The protocol is described below so that you can receive the TX29 information with an Arduino or a Raspberry PI or anything else provided you have a 868MHz RF receiver such as the RFM01 from Hope RF.
Modulation
carrier frequency : 868.3 MHz
modulation OOK
baudate 17.24 kpbs
40-bit messages
Message Format
The messages transmitted by Lacrosse sensors are 40-bit long and organized in quartets, the temperature is encoded in BCD. The format is as follows :

length (4 bits) :
It is the number of quartets that follow, that is to say 9, so there are a total of 10 quartets (comprising the length) = 40 bits
sensor id. (6 bits) :
Each sensor chooses a random identifier when it is started.
new_batt indicator (1 bit) :
After the sensor is (re-)started this bit is set to 1 during a few hours.
unused (1 bit) :
This bit doesn't seems to be used.
temperature (12 bits) :
According to the sensor specifications the minimum temperature the sensor can measure is -39.9 °C, so the 3rd field is simply (T°C + 40.0°C) * 10, expressed in BCD, example 602 = 60.2 * 10 = (20.2 + 40.0) * 10 => T = 20.2°C
weak_batt indicator (1 bit) :
This bit indicates if the sensor batteries become too old.
hygro (7 bits) :
This field gives the hygrometry if the sensor has this option (like the TX29DTH-IT+ sensor). In this case this field is lower than 100 (0×64) and directly gives the hygrometry. If the sensor has not the hygro option, this field is constant and equals 106 (0x6a).
CRC (8 bits) :
The last field is a CRC in order to secure the reception of the message. CRC-8 = 0x31 or x8 + x5 + x4 + 1
/*




 Bit by bit on the fly CRC computation for :




   CRC-8 = 0x31 / x8 + x5 + x4 + 1




*/





#define CRC_POLY 0x31




uint8_t

 

crc

 

=

 

0

;

 

/* global variable, holds the CRC */





void

 

compute_crc

(

uint8_t

 

b

)




{


    

uint8_t

 

do_xor

;


    

uint8_t

 

reg

;



    

reg

 

=

 

crc

;


    

do_xor

 

=

 

(

reg

 

&

 

0x80

);



    

reg

 

<<=

1

;


    

reg

 

|=

 

b

;



    

if

 

(

do_xor

)


    

{


        

reg

 

^=

 

CRC_POLY

;


    

}



    

crc

 

=

 

reg

;




}